Our mirror is located in the German city of Hamburg in the internet spot of Wendenstrasse.
If you have any issues, please contact mirror@netzwerge.de.
We also provide rsync access to some repos. See module list at rsync://mirror.netzwerge.de for more details.
---
Statistics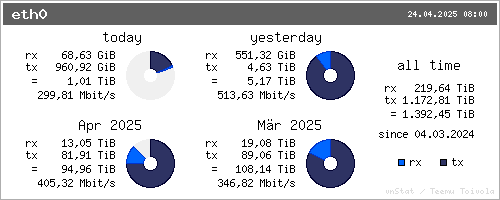 More statistics
---
Technical Data
Hosted in AS199938
Connection Speed: 2 GBit/s
Sync schedule: Differs between two times a day and every hour.
If you want to peer with us see as199938.peeringdb.com